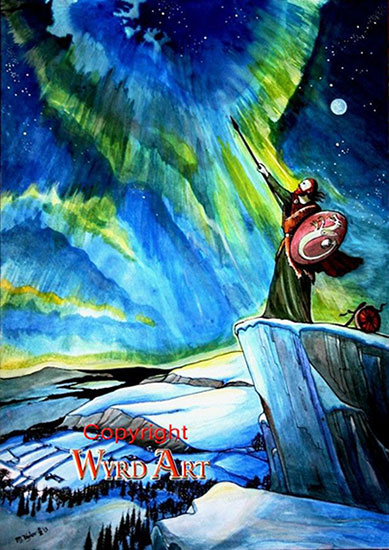 IMAGES OF THE ANGELCYNN AND OUR WARRIOR PAST
Limited editions art and high quality digital historical prints
NOW ON SALE! *NEW!
* PEWTER PENDANTS.
Copy based on C 6th Thunor's hammer

* 'MODRANIHT'. The Ancestral Mothers' Night

*'THE NINE NOBLE THEWS'. The Heathen guide to living an honourable life.

*HEATHEN TROTH. A pledge to the ancestors and for those faithful folk seeking to enter Valhalla

*33 Rune sets with instructions and bag.

*Drinking horns complete with leather holders with runic symbols also ...Bindrune pendants
* ALSO Buy high quality low cost digital prints online at this site or send a WYRDART GIFT VOUCHER to a special person.
New! Now you can follow Wyrdart on Twitter!
Here's the link: http://twitter.com/wyrdart